---
Jueves, 05.09.13
Autoria e outros dados (tags, etc)
Martes, 31.07.12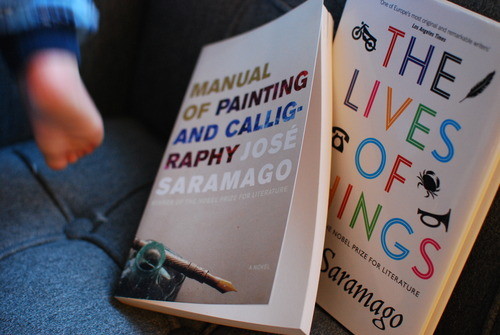 Crítica de Michael Hingston, escritor e editor em Edmonton, Alberta (Canadá), publicada no blog "Too many books in the kitchen". O autor escreve regularmente em jornais como o Natuional Post, Globe and Mail, The Edmonton Journal, The Georgia Straight e Alberta Views.
José Saramago was a notorious late bloomer. When the future Nobel laureate starting publishing in earnest, after a couple of one-offs, he was already in his mid-50s. And by the time he really hit his stride, starting in the late 1980s—a run that produced novels like The History of the Siege of Lisbon, Blindness, and All the Names—Saramago was literally a senior citizen. But age never slowed him down. He kept writing excellent fiction until the very end and, in a way, beyond, since nearly a half-dozen of Saramago's books have been translated into English since his death in 2010.
By fluke, two of Saramago's oldest titles made their way to North America this spring for the first time: his little-read sophomore novel, 1976's Manual of Painting and Calligraphy, and his only collection of short fiction (so far as I know), 1978's The Lives of Things. Each book reveals a writer whose obsessions and inimitable style appear to have arrived on the page fully formed. Either that, or Saramago spent his 20s, 30s, and 40s honing his craft in private, and then burning the evidence.
Autoria e outros dados (tags, etc)
---
---
---